Discover more from Midweek Crisis
Sending good vibes through music ✨🎶🎧 Join our melomaniac community for free & start receiving curated playlists packed with songs and stories from all around the world 🌐
Hey everyone!
I hope your April was a nice one, and May is treating you well. The last few weeks were busy and packed with different, and mostly mental energy-consuming tasks, but also fun and often positively stimulating. Currently, I'm working on some new and exciting products for theCode.xyz poster shop, doing an old apartment renovation, and building my physical strength more seriously than ever.
"W maju jak w raju" is a famous Polish proverb that means exactly: "in May like in Paradise". Where I live, it is hard to disagree. Nature here is right now bursting with colors. Each day presents new layers of beauty.
Birds are singing, flowers are spreading their lovely fragrances around, and everyone seems to have more energy and humor (probably thanks to the increased amount of sunny days ☀️). Every farmer's market is packed with young tomatoes, potatoes, asparaguses, cucumbers, and all sorts of leafy goodies, like cabbage or mint 🍅🥔🥒🥬
What a lovely time to be alive! Even waking up on Monday isn't like torture in this part of the year. The gravitational field of the bed is not that strong anymore, and all morning rituals are easier to go through. And that's exactly what I want us to focus on today - the morning rituals.
If you want to jump straight to the music, here's a damn fine mix 💿 filled with a bunch of really energizing tunes ⚡️
For those of you who decided to stay - let's dive in!
---
Morning rituals
Each day before work, we all go thru a few different phases. Some people start their day with a morning run, some pour coffee into themselves, and some fight the alarm clock, hitting snooze way too many times. I went through it all till I worked out a path for myself.
I was never a morning person. Not until I pushed myself to it a couple of years ago. It emerged from the need to squeeze in some more things to do daily than just work. That's when I've returned to drawing, writing, exercising, and learning new stuff. The world of possibilities opened up for me. I wasn't sure why the hell I ever cut myself out of things I enjoy doing so much in the first place. Was it the inner critic, or the lazybones inside? Dunno.
Since then, I've been actively figuring out how to approach and consume everything differently. I'm regularly fighting battles with cheap dopamine activities, like social media scrolling on the phone, doing disproportionately long research for anything to buy, and watching way too many tutorials to avoid really doing the task. Being honest with myself was, and still is, damn hard, but each time confronting the uncomfortable truth feels a bit easier.
To set a good rhythm to a day, it's essential to me to get thru a couple of different gateways of morning rituals.
---
🐶 Dog greeting
There's no way out of my bedroom without giving some love to Gonzo the dog. When he detects that you're awake, he'll march into the room, all wiggly and cheerfully, making all sorts of weird sounds. It's a kind of unique and adorable mix of ruffs, squeaks, moans, sighs, whines, growls, etc. With his wet nose, tongue, and hairy paws, he'll announce that the new day has begun, and now you have no other option than to get up quickly. A couple of minutes of cuddles, and I'm ready to face a day ahead.
Btw, I'm kind of mind-blown that we've spent 3 years with Gonzo already and celebrated his Adoption Day on Monday 🎉
---
💧 H as Hydration, H as Hygiene
From the bedroom, I usually move straight to my Berkey Water Filter to drink a cup or two of H₂O. I like it warmer than the room temperature, around 45°C. Electric kettles with temperature control revolutionized a bit my kitchen routines. No more mixing cold water with hot water or waiting for the water to cool down to be suitable for making some green tea or something like that.
After visiting the kitchen, I'm escorted to the bathroom door by Gonzo.
---
💪 Workout
A morning yoga practice is one of my favorite ways to feel more awake, present, and in touch with myself. Usually, I just roll out a mat in the living room and put on one of the videos on Yoga With Adrienne's YouTube channel.
But not that long ago, I felt a need for a change and decided to try something more intense. For a couple of weeks I've trained with MadFit and it was really great. I stopped doing it on holidays, and after returning home I didn't get back on track. Did some yoga, but nothing more. Until recently, when I went to a local gym offering circuit training on Milon machines. 36 minutes of cardio and strength training on 10 different machines felt just right. It clicked, and the new chapter has begun! 🔥
Last weekend, mostly inspired by two exceptional books - "Outlive: The Science and Art of Longevity", and "Lessons In Chemistry", in which the main characters use erg (ergometer / a rowing machine), we just ruined our living room with a rented concept2 RowErg machine 😅. That beast is huge, but I can already say that it was worth it. Rowing feels very rewarding, a bit primal, and masochistically enjoyable 🚣‍♀️🔥💪
🌳 Admiring nature
The next step is a morning walk with Gonzo in a park. We let him off the leash, so he can play around with his doggo friends, freely sniff here and there, and do all these things every dog needs to cross off the list to stay satisfied and happy.
It's our first spring in this area since we moved in, so it feels really magical ✨. Can't believe it's been almost a year living here.
Each day, during our walks, we look out for spotting different animals 👀. Our local park still surprises us with the variety of fauna and flora, we never know what we will meet on the way. Would it be a gray heron, muskrat, or a bunch of baby swans with their swan mommy and daddy?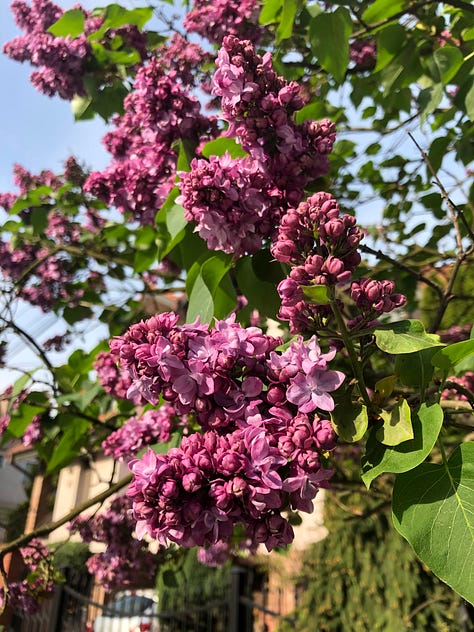 We have the best experiences, especially when it's raining, and there's no one else around. That's when the wild animals are most active and move more freely. So every day is a park day for us, no matter the weather.
---
🥣 Preparing breakfast
After a morning walk, it's time to finally eat something. Don't know about you, but I just love breakfasts and fueling up in the morning.
Preparing meals together with Tom is one of my favorite things to do every day. Now we use a Thermomix food processor to speed things up, and it generated a whole new energy in the kitchen. We plan our meals for a whole week ahead on Sunday, so we don't have to waste time on improvising and know exactly what to eat and when.
We both work from home, so there's usually no hurry, and the atmosphere around the meal is really mood-boosting. We chat, laugh, and listen to some local radio, and songs that we've found interesting recently.
After a solid breakfast, it's finally time for coffee.
---
☕️ Brewing coffee
To say I like coffee is like not saying anything at all. I freakin' love it. Sounds that are coming from the espresso machine letting off steam (big yay to accidental rhyming!), the sounds of a freshly brewed coffee falling freely in a single thin stream into a cup, and even harsh sounds of coffee beans grinding - these all are like a symphony to my ears 🎶👂☕️.
Together with Tom, we went through many stages with coffee to find ways that suit our needs perfectly. Currently, we're in our espresso shots, Americano, and filter coffee era using mostly these two gorgeous machines: the La Pavoni Europiccola with Mazzer Super Jolly manual grinder, and the Moccamaster KBG Select with Wilfa Svart automatic grinder (they're all mostly from the aftermarket, and widely known for being indestructible, and keeping their price at an almost constant level). Before that, we tried lots of drip coffees, and pour-overs, exploring different techniques of brewing, and grinding beans, using some classic tools like Bialetti Moka Express, Hario V60, AeroPress, or Chemex.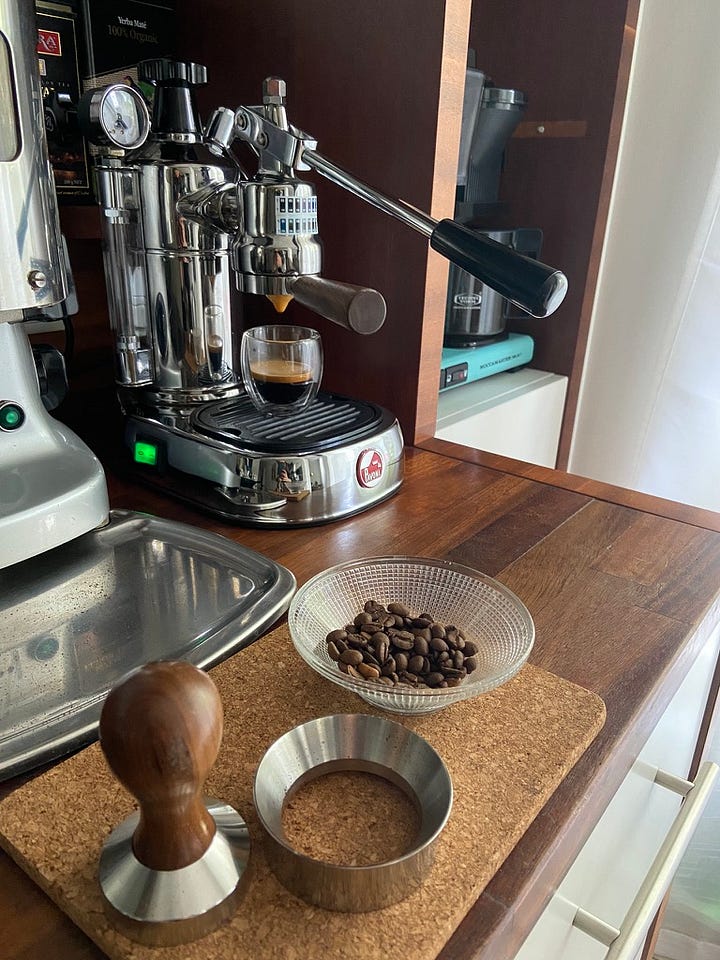 To enjoy our daily doses of caffeine even more, we started collecting all sorts of cups and mugs. We have some tiny ones for espresso, bigger ones for Americano, etc. In our little, colorful collection we have some heavier ceramic ones (highly recommending the "Egg" collection by LOVERAMICS), and lighter ones made of glass (these double-walled thingies really work, keeping the liquid inside warm much longer than standard ones). Our newest pair for espresso is adorably speckled, ceramic, and made locally in Poland (ÅOOMI).
Some say that "coffee is a hug in a mug". That's a lovely phrase, right? Just like a hug can make your day a little brighter, a steaming cup of coffee can perk you up and chase away the morning blues. It's like a little pick-me-up that's always there for us, whether a boost of energy is needed or just a moment of comfort.
And how do you like your coffee? Bitter and black as night, sweet and milky, or else? I'd be glad to know.
---
Thanks for reading the Midweek Crisis! Subscribe for free & start receiving good vibes once a month ✨
---
📝 Writing
Then I move to the study room (with my coffee, ofc) and before any work begins I need to open up my Notion workspace and a paper planner to untangle my thoughts. Any big task must be divided into smaller bits, and priority has to be specified, so it's easier for my mind to stay focused on one thing at a time.
This year I'm using The Paper Trainer ® by ZELO and I must admit, for now, it's been nothing but satisfying. The way it's constructed really serves me. Everything is nicely divided into monthly, weekly, and daily pages. There are some sections with self-care questions, similar to those that I shared with you quite a while ago, in the SELF CARE TIME issue. I used a lot of different journals and planners and it's the first one that is fully working for me (I haven't abandoned it yet).
---
👩‍💻 Home Office
The first couple of minutes before I start my workday I usually spend on cleaning my desk and organizing stuff on it. Clutter there makes me nervous and I'm acting accordingly to it - just chaotic. I know that it might seem that it would be better to clean my workspace at the end of the day, but this short morning clean-up gives me the feeling of accomplishing something small that I can build momentum on. 
Right now I'm aiming to complete my work-related tasks at my own pace, as much uninterrupted by all distractions, as I can. About a week ago I did a factory reset on my phone to get a clean slate and get rid of every addictive app I had in there once and for all. It was a good move. Can't get any cheap dopamine from my phone anymore. I am trying to stay as much offline as I can taking care of everything, and be more asynchronous in communication with others.
As I work on my laptop most of the day, my eyes, and the rest of my body need occasional pauses. Water breaks, lunch breaks, and walks with Gonzo in the middle of the day are very important parts of my every day.

To focus, when I'm not using my Bose headphones with a noise-cancellation feature, I'm probably listening to something non-invasive, mostly vocal-less from my fave playlists: Inspiration Station ✨🧠✍️, stimulus cumulus ☁️ , Focus Pocus 🧙🧠, Home Office Music 🏡👩‍💻🎶☕️ If you're looking for new sounds to get your creative juices flowing and help you get your work done, I recommend you to check these out.
---
That's all for today, folks. Don't hesitate to let me know what you're up to and what your morning routine looks like:
Go ahead, enjoy today's damn fine playlist, and embrace the day ✨
Yours,
Stygi