Discover more from Midweek Crisis
Sending good vibes through music ✨🎶🎧 Join our melomaniac community for free & start receiving curated playlists packed with songs and stories from all around the world 🌐
Tranquility Session
A focus-friendly playlist and reflections on what I learned this summer | MC#53
Hey, hi, hello! 👋
Summer in my corner of the world is still in full swing, but relentlessly coming to an end. September is right around the corner. The first leaves fall down the trees 🍂, and everything seems to be massively heated up and overdried. In the air, you can feel a specific tension related to the upcoming change of seasons.
Often, when I feel tense and overwhelmed with emotions, I reach for music filled with the calming sounds of nature. Chirping birds, flowing water, blowing wind, the rustle of the leaves… All of these have the power to unclench the troubled body and mind. Today's Tranquility Session playlist was put together to bring calmness, ease, and brain stimulation. It's almost vocal-free and focus-friendly. Hope you'll enjoy it 🙏
The need for a quick summary popped into my head, and I decided to reflect on these past few months.
What exactly did I learn this summer?
Anxiety relapse is a sneaky little b*tch, and the symptoms are easy to miss. It's frustrating as hell, but it's necessary to decipher why it happened, work on it, and accept the possibility of it returning in the future.

Recharging completely empty inner batteries should always be a top priority 🪫🔋 - you can't pour from an empty cup

Pranayamas are super calming and restorative when done regularly 🧘‍♀️ Nadi Shodhana (Alternate Nostril Breathing) works best for me

Chaturanga Dandasana (Four-Limbed Staff Pose) ceases to be torture when is being done for the 87263rd time

If a yoga program is well put together you can repeat it month by month and it won't become boring - try IGNITE by Breathe and Flow on YouTube 👌

Calisthenics is very addictive, and it feels truly amazing to build muscle tone and definition gradually

Exercising in an outdoor gym in a park feels great, especially very early in the morning when everything is covered with mist, and dew drops

There's no way for me not to finish the entire sunflower when I start plucking it 🌻

Season II of "The Bear" series is a masterpiece (especially the Christmas episode with the spectacular acting of the one and only Jamie Lee Curtis) 🐻 and its soundtrack is top-notch, packed with mostly 90s hits 👌

Being an Airbnb host and taking care of people to have an awesome stay feels really nice and rewarding

We have venomous spiders in Poland 🕷️

Rolling the dice is a pretty cool way to quickly handle most daily dilemmas (non-standard dice sets are really fun to use). After playing "Baldur's Gate III" whenever I want to convince

to do something I need to roll

D20 dice

🎲

I have a hard time going to the cinema during summer - I can tick "Barbie" off the must-watch list, but still haven't seen "Oppenheimer"…

I'm a compulsive looter in computer games. It takes a lot of patience to play "Diablo IV" with me 🎮. Luckily Tom has it.

In the "Strange Planet" series on Apple TV+ (based on Nathan W Pyle's epic comics) 👽, they use this adorable, quirky language where the Earth is an "orb", "flavor muscle" means tongue 👅, coffee is a "jitter liquid" ☕️, alcohol is a "mild poison", cats are "vibrating creatures", college is a "learnstitution", and they say "gratitude" instead of "thanks".

Words of affirmation from a loved one are very important to me, but apparently, I'm a doubtful person when it comes to receiving apologies. In that scenario the most important factor for me is "Planned Change", and I have an allergy to idle apologetic words. If you're curious about what's your love language, take this quick 5 Love Languages quiz

Taking a few months of social media detox (from Instagram, TikTok & other cheap dopamine sources) was a mind-opening experience, and I'm definitely gonna repeat it each year

Asynchronous type of communication is a blessing of the modern world

There are shockingly many species of basil out there - I was very surprised with the purple one recently 🌿

Drawing and reading for pleasure (not only for business reasons!) are very important

Designing movie posters is a super fun activity to change the context (probably not all of you know that my main job is to design code-inspired posters at thecode.xyz)

I missed using public libraries as a source of new books to read. It feels damn good to get back to it 📚

Writing once a month is much harder than writing biweekly. I think I might return to the old format in the near future or look for some middle ground.

is the most inspiring newsletter to me. I don't know how he does it - each issue is better than the previous one. The newest meditation hits harder than ever with this beautiful poem read with soothing Matt's voice. Pure bliss for the mind 🥹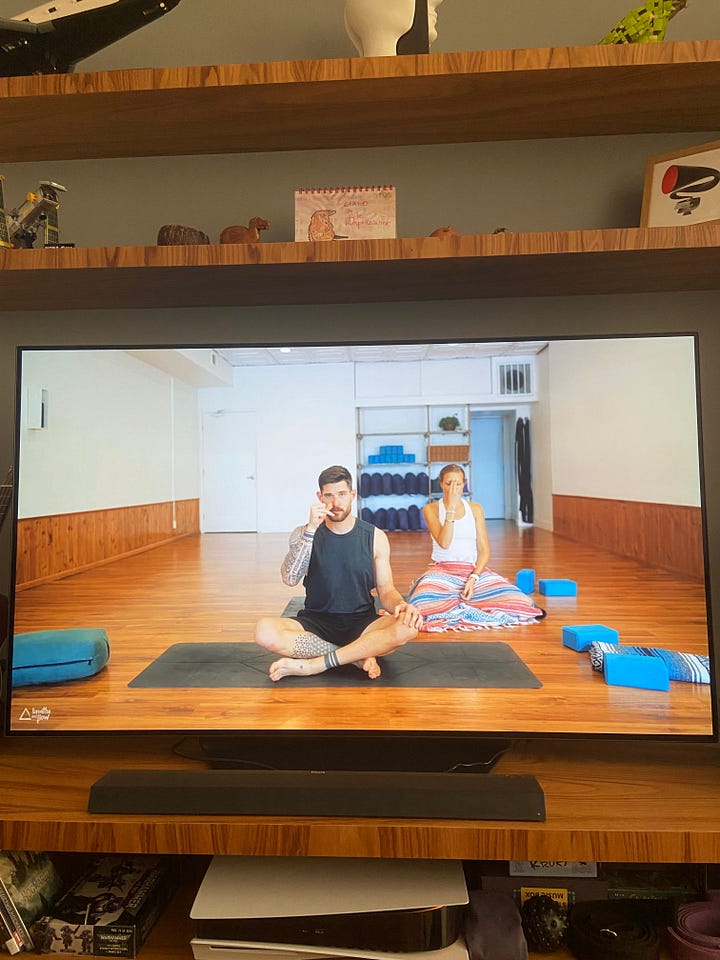 I found this reflection process to be a very enlightening experience, and definitely, I'm gonna repeat it next season. Let me know if you practice anything similar, and if you don't, sit down for 10 minutes and give it a go. You might be surprised by what you learned these past few months.
Sending you a bunch of good energy ✨✨✨
Truly yours,
Thanks for reading Midweek Crisis! Subscribe for free to receive new posts and support my work.