Discover more from Midweek Crisis
Sending good vibes through music ✨🎶🎧 Join our melomaniac community for free & start receiving curated playlists packed with songs and stories from all around the world 🌐
Bonjour!
I'm back from vacation with inner batteries recharged 🔋🔋🔋, ready to resume sharing good vibes with y'all.
But before we begin the main story of this issue, I want to announce a slight change in the way the Midweek Crisis has been conducted so far. I've decided to switch things up a bit. I know this might come as a bit of a surprise, but hear me out.
From now on, I'll be sending out my MCs on a monthly basis instead of every two weeks. Don't worry, though! I'm still going to be bringing you music from all around the world, featuring different artists, and music genres, and sharing exciting stories and my playlists with you.
Why the change, you may ask? Well, for one, I want to make sure you're getting quality content, and sometimes that means taking a little extra time to curate it. I have a lot on my plate this year, and I don't want to hurry my issues and send you pieces that I'm not satisfied with. Plus, it probably will slim down your inbox. I don't know how about you, but recently I've been feeling overwhelmed with too much content from newsletters and too little time to process it. Honestly, I don't want to be a part of that problem.
By focusing on one, bigger issue each month, I'll be able to put more time and energy into creating my pieces. By sending out one newsletter per month, I hope to strike a balance between staying in touch with you and respecting your time and attention. Of course, if you ever want to hear from me more often, you can always drop me a message directly or leave me a comment here.
I hope you understand and stick with me through this change. I promise it'll be worth the wait when you receive monthly newsletters filled with goodness.
Also, thank you for being a part of this space 🫶
That being said, thanks for reading, and let's goooo!
---
Mauritius adventure
! Disclaimer !
It's gonna be a quite long issue. If you haven't got these couple of minutes to read the story, you can skip it and jump straight to the "Sounds of Mauritius" playlist:
☉ Bumpy start
I feel like March has flown by crazy fast, and I'm still catching my breath. But hey, time flies when you're having fun, right?
For the last two weeks of March, together with my husband Tomek (who, by the way, has just begun his Substack adventure writing
), we've been exploring
Mauritius
- an island country in the Indian Ocean 🇲🇺. To get there, we flew almost 9 thousand kilometers in over 20 hours, with a small stop in Paris.
As it was our first time in the tropics, dealing with such hot and humid weather conditions has been quite challenging. From Polish minus degrees, we jumped straight into 30+ degrees Celcius. The contrast was sick, and so were we for the first couple of days of our trip…
We haven't been on holiday abroad since 2018, so we mobilized quickly, and with good meds 💊, a positive attitude, and a strong desire to explore Maurice, we defeated the illness 💪. From the beginning, we both acted accordingly to our plan. Regardless of the obstacles, we went not only for challenging trekking through the jungle, but we also swam below waterfalls, snorkeled, and visited all these spectacular must-see spots, like the Seven Colored Earth Geopark in Chamarel.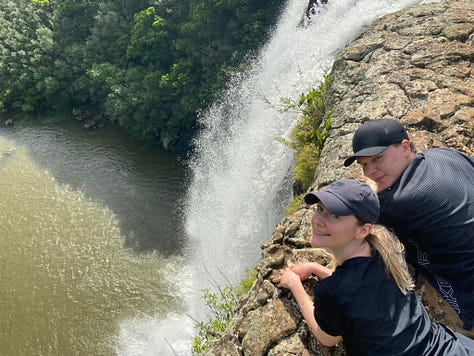 ☉ Sega music
In the middle of our first week in Mauritius, we went with Captain Jayson and his Babacool1 crew, for a trimaran cruise from Pereybere to Île Plate (Flat Island). About an hour-long journey passed in a blink of an eye, thanks to the fantastic atmosphere, ocean views, and well-chosen music flowing from the speakers. We enjoyed the breeze, and being rocked and bounced by the waves. It was awesome to see all these famous flying fishes that shimmered in the sun and count their jumps above the ocean water.
We loved Flat Island. It was a true snorkeler's paradise. We used its shallow lagoon filled with corals to observe tons of colorful fish, sea anemones, urchins, etc. We've been well-fed with a BBQ lunch that contained delicious fish, such as marlin, and smoked bananas topped with vanilla sugar. As we all had unlimited access to alcohol, such as Phoenix beer, island juice (fruity, homemade %), punch, and wine, some of our co-passengers nearly passed out on the way back 😜.
But before we left the Île Plate, the Babacool trio served us a feast for the ears and soul. Equipped with acoustic guitar, and a drum they first performed two global hits: "Zombie" by The Cranberries, "One Love/People Get Ready" by Bob Marley & The Wailers, and "Aicha" by Khaled, and then they introduced us to Sega music with a local hit called "Pomper". They started slowly and gradually raised the tempo, adding more and more movement and sounds. They sang in Morisien and shook their heads, and shoulders, rhythmically swayed their hips, clapped their hands, and hit their fists against the wooden table and drums. It was a truly beautiful, authentic, and intimate experience filled with smiles and great energy. We didn't record any of this and simply enjoyed the moment, but I think the video below is the closest to what it was.
Mauritian Sega, the blues of the Indian Ocean, is recognized by UNESCO as an Intangible Cultural Heritage of Humanity. It's a music, which origin and history date back to the XVII century, and the African slaves that were transported to Maurice to work in the fields.
"it is estimated that a staggering 80 percent of the island's population were enslaved, with the total number of enslaved Africans on the island reaching a shocking 60,000 by the early 19th century.

These enslaved Africans had few solaces, but on rare occasions, the one thing they could do was come together and dance. Music was provided using hand-made instruments of various forms and the dance was developed as an expression of the pain they had to endure. The music, and the dance which accompanied it, came to be known as Sega."2
These traditional, hand-made instruments were:
Ravanne - a circle of wood covered with goat skin; a traditional drum that needs to be warmed up above fire before playing to resonate properly; it is placed on the thigh, for the player to have both hands free to play. Click here to hear what it sounds like 🪘🎶
Triangle - a piece of bent metal, with a well-known high-pinched tone
Maravanne - a rectangular-shaped piece of wood covered with sugar cane stems filled with dried seeds or small stones; when shaken, the sounds remind the waves of the ocean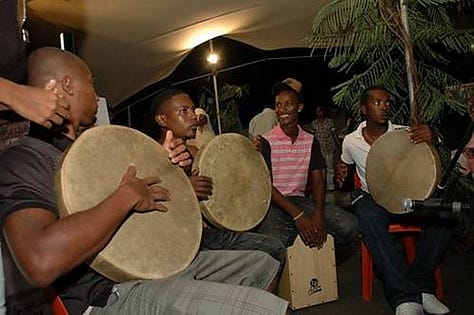 Traditional Sega, called "Sega Typik" was very expressive, often sad and mournful, given the horrific Mauritian history.
Even though Sega was banned by the church and colonial authorities, it endured, evolved, and has become so ingrained in the local culture that it's still very alive, as it is the official national music and dance.
In the early 1900s, Sega started to shed its ritualistic roots and transformed into a multicultural platform for expressive, improvised singing. With its lively rhythms and catchy melodies, it became the perfect canvas for performers to showcase their wit and wordplay using the colorful Creole language. From clever puns to hidden meanings, the language of Sega is an integral part of this vibrant and dynamic genre.
Well-known locally, traditional sega singers from Mauritius, include artists like Michel Legris, Nancy Derougere, or Ti Frére - an illiterate musician, a "King of Sega", who despite his popularity lived and died in utmost poverty.
From the streets of Port Louis to the sandy shores of Grand Baie, Sega can be heard and felt throughout the island. It's not just music or dance, but a way of life. It is made up of a fusion of traditional African rhythms and local Creole melodies, creating a unique blend.
From its humble beginnings, Sega has undergone quite a transformation. Throughout the years it incorporated a bunch of other music genres like pop, jazz, soul, and reggae, resulting in lively new hybrids, such as Seggae. The most recognizable artists from this genre are Kaya and Racine Tatane.
---
Thanks for reading Midweek Crisis! Subscribe for free & start receiving a monthly dose of good vibes, curated playlists, and music-related stories from all around the world 🎶🌐✨
---
☉ SOJA
One day we took a boat trip to Île aux Bénitiers to the north from Le Morne Brabant. It was an amazing adventure! We swam with wild dolphins (even saw a baby dolphin attached to his mommy) 🐬, sea turtles, and a few different kinds of rays. When snorkeling we also saw some crazy colorful and weirdest fishes 🐠 and sea creatures, like sea snakes, and giant sea urchins (that looked like spiky alien eggs). I won't share any films from it tho, because our underwater camera decided to die a day before… but maybe thanks to it we've been able to wholly experience it all, without any distractions, and pressure to take the best shots.
During this boat trip, we mostly listened to "Young, Dumb and Broke" by Khalid and a lot of SOJA whose catchy lyrics stuck deep in our heads.
SOJA (short for Soldiers Of Jah Army) is a group of musicians from Virginia, but their sound is rooted in the music of Jamaica. They've been spreading their positivity with a unique blend of reggae, rock, and hip-hop for over two decades, with each album bringing new hits and fresh sounds.
Their music is more than just catchy beats and awesome guitar riffs. Frontman Jacob Hemphill's soulful voice sings in a thought-provoking way of love, justice, and the power of music to bring people together. Here's my favorite one:
☉ Shazammed things
In our rented Kia Sportage (driven by my brave husband who must have switched to left-side traffic) we mainly listened to local radios, such as MBC Kool FM which served mostly reggaeton, R&B, and dance hits. Thanks to it we got to know some incredibly catchy tunes. I managed to Shazam some of these songs - you can find them at the bottom of today's playlist.
☉ Sounds of nature
I listened to a lot of different songs from many genres during this trip. But if you ask me what Maurice sounds like to me, I'll say it's a symphony of ocean waves crashing 🌊, murmurs of waterfalls, birds singing 🦜, bat squeaks 🦇, the loud calling of toads 🐸, and scraping sounds of gecko paws everywhere 🦎.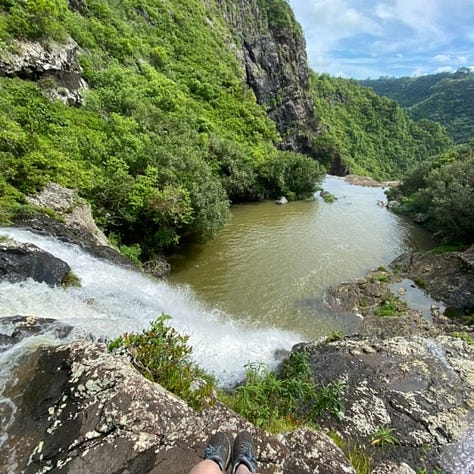 For the ambient and relaxing sounds of nature in Mauritius check out these short videos, that I uploaded on the Midweek Crisis channel on YouTube a few days ago:
But when I think of Maurice, there's also something else that has stuck deeply in my mind. These Mauritian oldschool, noisy, and colorful buses with funny names. "Mon Amour Rama", "Spiderman", "The Street Ruler", "Road Paradise", "God Wish", "Prince Of Love", "Angel Of The Road", "Romantic Journey", "Royal King", "SunKing", "Highway Queen" are just a few examples that we've spotted with Tom.
Often these buses had their doors wide open when driving and were decorated with shiny, Christmas-like ornaments, colorful lights, sometimes even stroboscopes, and disco balls 🪩.
---
And that's all for today. I was doing my best to help you hear what I have heard and trying to pass down the excitement to you. Hope I managed to do so, at least a tiny bit. Feel free to share your thoughts with me. Let me know what you've been up to recently.
Have a great day!
Until next time,
Stygi